Boy Asks To Be Woman's Ring Bearer, Then She Turns And Receives Surprise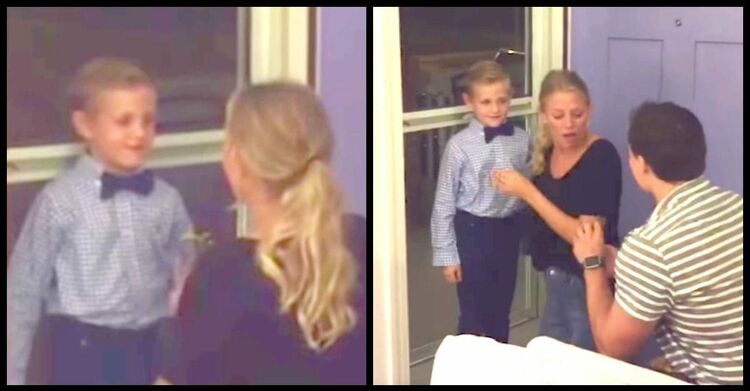 Caroline McSwain returned home to visit her parents in Durham, North Carolina. When she was all settled in, she never expected a knock at the door to change her entire life.
In the video below, posted on August 28, 2017, Caroline answers the front door and sees 7-year-old Elijah McDonald. Her young neighbor smiles and holds out a tiny bouquet of flowers just for Caroline.
She gives the little boy a giant hug as a family member takes a photo of the sweet moment.
"Thank you so much! These are beautiful," Caroline tells the well-dressed child.
Then, she realizes something is up. Elijah tells her, "ring berry."
She has no idea what that means, but she agrees and hugs him again, not sure about what he is trying to say. Little does she know, he is trying to say "ring bearer."
When Caroline was younger, her parents sent her to help Elijah's dad propose in the same way he does for her in the video.
Suddenly, Caroline's boyfriend, Alex Ryskiwich, appears behind her and lowers himself to one knee. Elijah's eyes meet Alex's hand, which is holding something very special.
When Caroline turns around and spots a ring in Alex's hand, she completely loses it.
In the end, the team effort goes off without a hitch and their friends and family can't be any more excited.
Check out this adorable proposal in the video below, and please SHARE if you think little neighbor Elijah helped make this moment so special!
Photo credit: Little Things